0
April 7, 2013 by Todd
I'm not a morning person.  Give me a choice between a warm bed and a cool Autumn morning, and chances are the warm bed will get the inside running.  Make it a SUNDAY morning and, well, you're kidding, right?
Well, believe it or not, this morning was different!  I'll tell you why.
Both of my mother's parents died of different forms of cancer, and it just so happens that my Nan's anniversary was 20 years ago a few days ago.  Cancer is a terrible disease, and one which affects too many of us too often.  So when I heard about a little fundraising walk this morning at Walka Water Works to support a group of ladies who are participating in the Weekend to End Women's Cancers (benefiting The Chris O'Brien Lifehouse at RPA) later this year, I couldn't think of a better reason to get out there for a lovely early morning walk!
In case you don't believe me, I have photographic proof!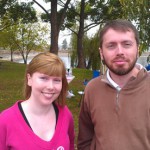 The ladies will be participating in a two day, 60 kilometre walk through Sydney later this year.  Here is the link to their team page: click here.

Check it out, and be supportive if you can! 🙂
Take care,
TS.
Category Community, News | Tags:
---
Sorry, comments are closed.