0
July 7, 2021 by Todd
The motto of Todd Street Lawyer is 'Our knowledge is your edge'. It might sound like marketing fluff (and I do have a degree with a major in marketing), but to me it is much more than that. It's a creed that I have tried to live by over more than 15 years as a lawyer – a good lawyer never stops learning. The law is always changing, and there's always something new out there to discover.
With that in mind, even after I finished my law degree I continued to study. First, there was an applied family law masters. Then specialist accreditation in family law. Then a graduate diploma in family dispute resolution. Most recently, I have started another applied law masters – this time one not limited to a specific area of law. That second masters has taken me from the study of estate planning, to uncontested grants in deceased estate matters, to elder law, and most recently to conveyancing.
That brings me to my news. The College of Law in Sydney recently contacted me to let me know that, not only did I get a high distinction in my conveyancing subject, but that I had also got the top mark in the course! And today the certificate arrived…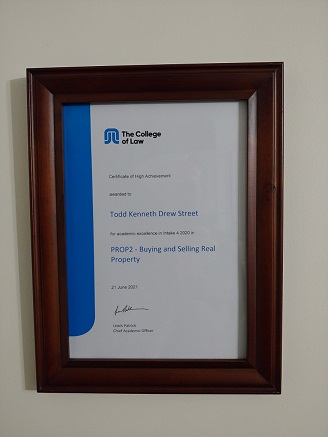 So if you're buying a new home or selling your current one, just remember that we handle conveyancing matters too. Dare I say it – let our knowledge be your edge!
TS
Category Articles, Conveyancing, News | Tags:
---
Sorry, comments are closed.